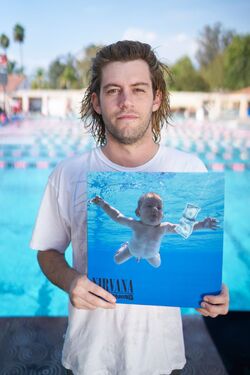 Spencer Elden (born July 9, 1991) was the baby from the Nevermind cover.
Nirvana
Spencer was just a few months old when his parents got a call from underwater photographer Kirk Weddle, who asked if he could use their newborn baby as part of a photoshoot for an up-and-coming band called Nirvana. At the time, Elden's father helped with sets, custom rigging and props for photo shoots, which is how he got to know Weddle.
When he is older, Elden has recreated the photo shoot a number of times and has a large tattoo that says "Nevermind" on his chest, he says he hasn't fully come to terms with being on the album's cover. "I got a little upset for a bit," he says. "I was trying to reach out to these people. I never met anybody. I didn't get a call or email. I just woke up already being a part of this huge project. It's pretty difficult—you feel like you're famous for nothing, but you didn't really do anything but their album."
Community content is available under
CC-BY-SA
unless otherwise noted.