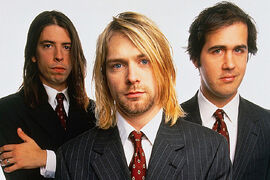 Nirvana are an American grunge band that was formed by lead singer/guitarist Kurt Cobain and bassist Krist Novoselic in Aberdeen, Washington in 1987. The band had six short-term drummers until the longest lasting drummer, Dave Grohl, came along. Jason Everman and Pat Smear have both played in Nirvana as second guitarists.
The band's first release was the Love Buzz single.
The band had many hits that led them to success, starting with "Blew" and "About A Girl". Nirvana then reached mainstream radio with the song "Smells Like Teen Spirit", from their second album album Nevermind. The group disbanded after lead singer Kurt Cobain made an unreleased breakup announcement in 1994. The remaining members, Pat Smear, Krist Novoselic, and Dave Grohl played on the Mike Watt album Ball Hog Or Tug Boat? soon after. After joining several different bands, including Sweet 75, Eyes Adrift, and Flipper, Novoselic eventually went into politics.
Grohl recorded an album under the pseudonym Foo Fighters and shortly after formed a band with the same name with Smear.
References
[
]