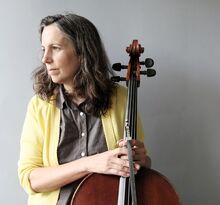 Lori Goldston (born 1963) is an American cellist and composer. Accomplished in a wide variety of styles, including classical, world music, rock and free improvisation, she came to prominence as the touring cellist for Nirvana from 1993–1994 and appears on their live album MTV Unplugged in New York and their performances Live and Loud, Tunnel and a lot more. She was a member of Earth, the Black Cat Orchestra, and Spectratone International, and also performs solo.
In the mid-nineties, Goldston rose to prominence in the Pacific Northwest music scene as a session cellist, notably joining Nirvana on a US tour and appearing on their famous MTV Unplugged in New York set. Through the nineties and early millennium, Goldston played on dozens of studio albums. Meanwhile, with the Black Cat Orchestra, she toured and recorded for prominent national acts, including David Byrne (on his 1997 album Feelings), the One Reel Film Festival, and NPR's This American Life. In 1996, the group recorded and independently released a self-titled debut album. They followed it in 2001 with Mysteries Explained, co-produced with Irene Records, and then and Long Shadows at Noon from Yoyo Recordings from 2003.
Community content is available under
CC-BY-SA
unless otherwise noted.