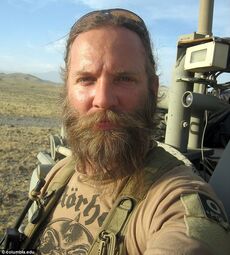 Jason Everman (born October 16, 1967) was the second guitarist of Nirvana who played with them from February to July of 1989.
Previous to Nirvana, he and Nirvana drummer Chad Channing played together in the band Stonecrow.
Jason Everman helped pay for the publishing of Bleach album for $606.67. He did not play on any of the tracks but he was credited as a second guitarist, for a special thanks from Kurt Cobain.
He went on to tour with them from February to July of 1989. Everman quit the band due to getting into a fight with a drunk guy who came on stage constantly swearing on to the microphone at the Pyramid club.
As soon as he left the band he joined Soundgarden as a temporary bassist in 1990. He later joined the band Mind Funk in 1993, but left the band in 1994 to join the United States Army fighting in Afghanistan and Iraq. After receiving an honorable discharge in 2006, he decided to study at Columbia University. He currently still studies there.
Lo Flux Tube (1991)
Masters of Misery – Black Sabbath: An Earache Tribute (1992)
Hands All Over (1990)
Loudest Love (1990)
Louder Than Live (1990)
Community content is available under
CC-BY-SA
unless otherwise noted.