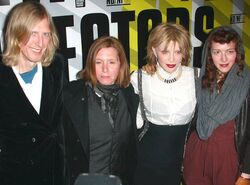 Hole was an American alternative rock band formed in Los Angeles, California in 1989. It was founded by singer and guitarist Courtney Love and guitarist Eric Erlandson. It had several different bassists and drummers, the most prolific being drummer Patty Schemel, and bassists Kristen Pfaff and Melissa Auf der Maur. Hole released a total of four studio albums between two incarnations spanning the 1990s and early-2010s, and became one of the most commercially successful rock bands in history fronted by a woman.
Influenced by Los Angeles' punk rock scene, the band's debut album, Pretty on the Inside, was produced by Kim Gordon of Sonic Youth, and attracted critical interest from British and American alternative press. Their second album, Live Through This, released 1994 by DGC Records, which featured less aggressive melodies and more restrained lyrical content, was widely acclaimed and reached platinum status within a year of its release. Their third album, Celebrity Skin, marked a notable departure from their earlier punk influences, boasting a more commercially viable sound; the album sold around 2 million copies worldwide, and earned them significant critical acclaim.
They disbanded in 2002, and the members individually pursued other projects. Eight years later in 2010, Hole was reformed by Love with new members, despite Erlandson's claim that the reformation breached a mutual contract he had with her. The reformed band released the album Nobody's Daughter, which had originally been conceived as Love's second solo album. In 2013, Love retired the Hole name, releasing new material and touring as a solo artist. In October 2019, Hole rehearsed at the Hollywood Walk Of Fame, in Los Angeles.
Community content is available under
CC-BY-SA
unless otherwise noted.