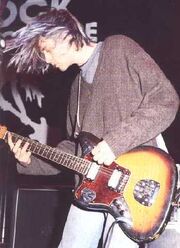 One of Kurt's many Fender guitars, Kurt used the Fender Jaguar many times.
Kurt's main guitar during the Nevermind era was a 1965 sunburst (red faded out) Fender Jaguar. It had a red-swirl mother-of-bowling-ball pickguard, 2 volume knobs, 1 tone knob, and a black chrome Schaller bridge. Kurt reportedly never polished the guitar, and Earnie Bailey called it "disgusting". The Jaguar was especially seen on tours circa 1991, and Eric Erlandson played it in the video for Hole's "Doll Parts".
Kurt also had a 60s' sunburst Jaguar, which was purchased by Airline Vintage in Texas in 1992.