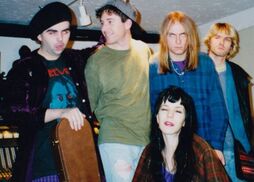 Fecal Matter was a short lived punk rock band from Aberdeen, Washington.
Fecal Matter was formed in early 1985 by guitarist Kurt Cobain, bassist Dale Crover, and drummer Greg Hokanson. The band recorded a demo on a 4 track recorder at Cobain's Aunt Mari Earle's house. Greg Hokanson departed the band in December of 1985. Buzz Osborne and Mike Dillard joined the band in 1986.
The band disbanded in February of 1986. Kurt Cobain wanted to form a band with Krist Novoselic. Cobain gave Novoselic a Fecal Matter demo. Several months later, Novoselic finally listened to the demo and agreed to form a band together. They had a Creedance Clearwater Revival cover band, called The Sellouts, that eventually disbanded a couple weeks later. In 1987 Kurt and Krist decided to make another band with Kurt on the guitar, Krist on the bass, and Aaron Burckhard on the drums. They had a couple name changes before settling in on Nirvana like Pen Cap Chew, Throat Oyster, Bliss, Skid Row, Windowpane, and Ted Ed Fred.
Community content is available under
CC-BY-SA
unless otherwise noted.