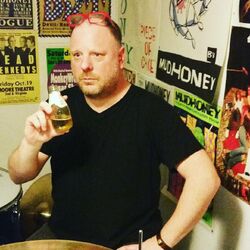 Daniel Joe Peters (born August 18, 1968) is the drummer for Mudhoney. He joined Bundle of Hiss when he was fifteen years old. He also played drums for Nirvana, appearing on one single, "Sliver". Peters' only live appearance with Nirvana was on September 22, 1990, in Seattle, Washington, at the Motor Sports International Garage. Peters continues to drum for Mudhoney, and was replaced in Nirvana by Dave Grohl. Peters expressed his only regret as missing the chance to play drums on Nevermind.
Superfuzz Bigmuff (1988)
Mudhoney (1989)
Every Good Boy Deserves Fudge (1991)
Piece of Cake (1992)
Five Dollar Bob's Mock Cooter Stew (1993)
My Brother the Cow (1995)
Tomorrow Hit Today (1998)
Since We've Become Translucent (2002)
Under a Billion Suns (2006)
The Lucky Ones (2008)
Vanishing Point (2013)
Digital Garbage (2018)
Sliver (1990) (single)
Incesticide (1992) ("Sliver" only. Appears as drummer.)
Nirvana (2002) ("Sliver" only. Appears as drummer.)
Confusion Au Go Go (1999)
Community content is available under
CC-BY-SA
unless otherwise noted.