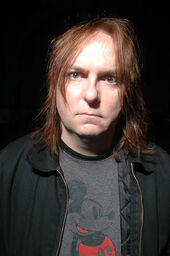 Dale Crover (Born October 23, 1967) was the second drummer for Nirvana, where he replaced both Aaron Burckhard and Chad Channing. Unfortunately, in January 1988 and August 1990 when he was replaced by both Dave Foster and Dan Peters. Kurt Cobain had befriended Dale during Melvins practices, a band which Crover is still a part of to this day. He took part in two of Cobain's projects, those being Fecal Matter and Nirvana itself.
Six Songs (1986)
Gluey Porch Treatments (1987)
Ozma (1989)
Bullhead (1991)
Eggnog (1991)
Salad of Thousand Delights (1992)
Dale Crover (1992)
Lysol (aka Melvins) (1992)
Houdini (1993)
Prick (1994)
Stoner Witch (1994)
Stag (1996)
Honky (1997)
Singles 1-12 (1997)
Alive at Fucker Club (1998)
The Maggot (1999)
The Bootlicker (1999)
The Crybaby (2000)
Colossus of Destiny (2001)
Hostile Ambient Takeover (2002)
Neither Here Nor There (2004)
(A) Senile Animal (2006)
Nude With Boots (2008)
The Bride Screamed Murder (2010)
Freak Puke (2012) (Melvins Lite)
Everybody Loves Sausages (2013)
Tres Crabones (2013)
Hold It In (2014)
Basses Loaded (2016)
A Walk With Love & Death (2017)
Pinkus Abortion Technician (2018)
Wanted Dead or Alive (1997)
Civil War Fantasy (1998)
Our Darlings (2001)
The Monkee's Uncle (2005)
Skins (2016)
The Fickle Finger of Fate (2017)
Community content is available under
CC-BY-SA
unless otherwise noted.