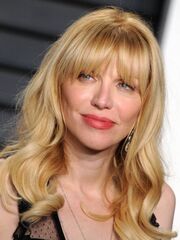 Courtney Michelle Love (birthname Courtney Michelle Harrison; born July 9, 1964) is an American singer, songwriter, and actress. A figure in the punk and grunge scenes of the 1990s, Love's career has spanned four decades. She rose to prominence as the lead vocalist of the alternative rock band Hole, which she formed in 1989. Love has drawn public attention for her uninhibited live performances and confrontational lyrics, as well as her highly publicized personal life following her marriage to Nirvana frontman Kurt Cobain. She is also the mother of Frances Bean Cobain.
In 1993, Love and husband Kurt performed an acoustic set together at the Rock Against Rape benefit in Los Angeles, which raised awareness and provided resources for victims of sexual abuse.
She was played by actress and intimacy coordinator, Sarah Scott in Soaked In Bleach.
Pretty on the Inside (1991)
Live Through This (1994)
Celebrity Skin (1998)
Nobody's Daughter (2010)
America's Sweetheart (2004)
Community content is available under
CC-BY-SA
unless otherwise noted.